New K-12 Reopening Metrics – January 19, 2021
On January 19, 2021, the Oregon Department of Education released guidance updates for K-12 schools, including new advisory metrics for reopening and updates to the Ready Schools, Safe Learners guidance. Click on the image below to review the new K-12 metrics.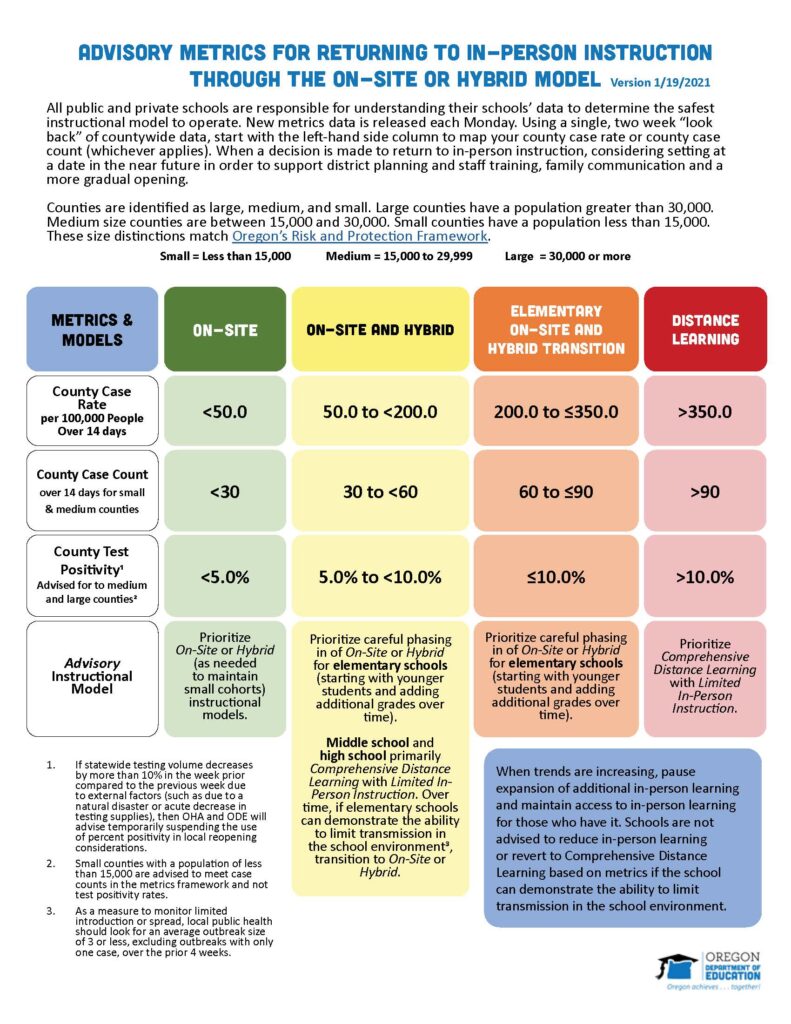 To view the new version of the Ready Schools, Safe Learners guidance, including more details about how schools apply the metrics shown above, please click here.
Reopening Communications
Need assistance with your device? Visit the District Technology Hub
Free Meals for all SSD Students
Sherwood School District remains committed to providing meal service for our students, even as we prepare to begin the new school year in distance learning. Our new meal distribution plan will begin on Monday, September 14, and has been expanded from our offerings last Spring.
Nutrition Services and Transportation are working together to deliver meals to all rural routes and bus stops. We will also resume meal distribution hubs at all school sites for families who reside in the walk zones. All student meals are free through the end of the 2020-2021 school year. With our meal delivery plan, some food will require reheating in a microwave – basic instructions for all food will be provided.
In order for your student(s) to receive meals, you will need to register using our Nutrition Services Free Meal Order Form, found here.
Once we begin in a hybrid model, student meals will be transferred to delivery in the classroom for those students; students still in distance learning or the Sherwood Cloud Campus will continue to have access to meals via bus delivery or meal hubs.
For assistance, please call Kelly Rood at 503-825-5043, or email at krood@sherwood.k12.or.us
2020-21 Operational Blueprints
August 11, 2020 – Virtual Community Forum
Fall 2020 Instructional Models: Feedback Surveys