New K-12 Reopening Metrics – January 19, 2021
On January 19, 2021, the Oregon Department of Education released guidance updates for K-12 schools, including new advisory metrics for reopening and updates to the Ready Schools, Safe Learners guidance. Click on the image below to review the new K-12 metrics.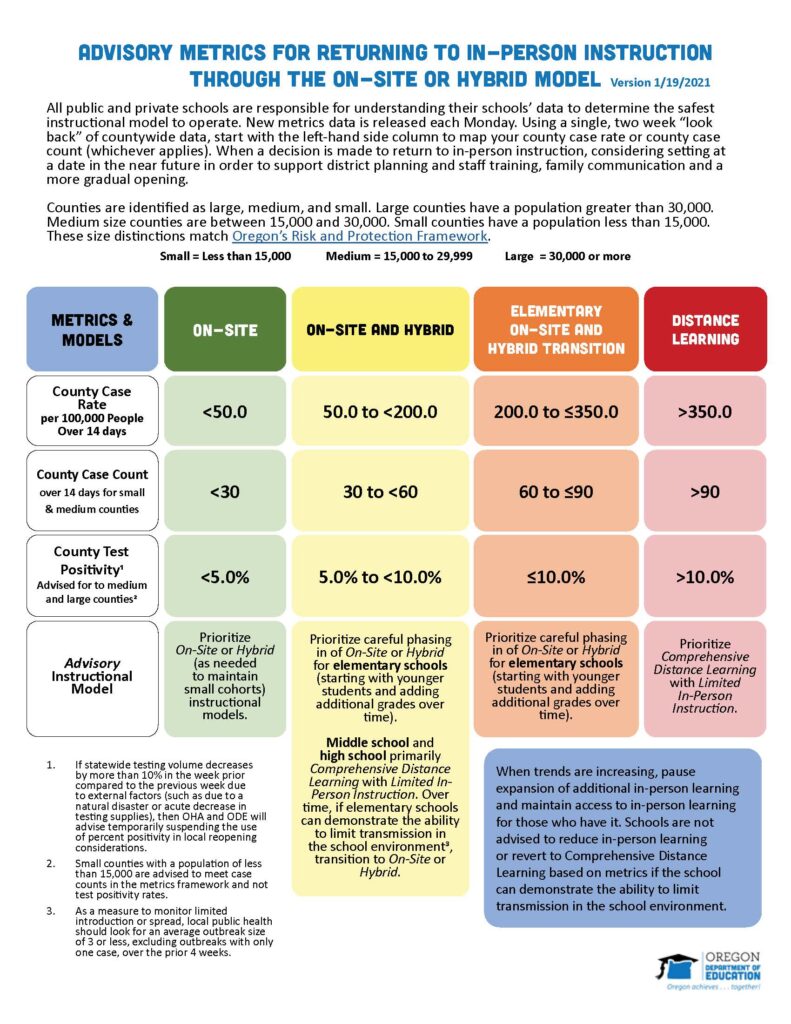 To view the new version of the Ready Schools, Safe Learners guidance, including more details about how schools apply the metrics shown above, please click here.
Elementary School Reopening Dates (Approved)
On February 10, 2021, our Board of Directors took action on selecting dates to reopen our elementary schools to students for Hybrid in-person instruction; the recording of that meeting can be viewed here. The approved dates are:
Grades K and 1 – Starting March 8
Grades 2-5 – Starting March 15
The first week of school for each of these groups will be transition weeks, with half of the students attending on Monday, the other half attending on Tuesday, and then all students attending the remainder of the week. Additionally, March 12 will be a grading day for elementary and there will be no school on that day. Please see the calendar below for details:
In addition to these dates, the Board approved additional professional development/transition days for staff to prepare for the return of students in the Hybrid model. There will be no school for students on those dates. The approved dates are:
February 25 and 26 – no school for students transitioning to Hybrid in-person; Cloud Campus will be in session on these dates)
March 4 and 5 – no school for all students in grades K-5
Middle and High School Reopening Dates (Approved)
On March 10, our Board of Directors met — in a Work Session and a Regular Meeting — to review and approve dates associated with the return to in-person instruction plans for our middle and high school levels. The Work Session can be viewed here, and the Regular Meeting can be viewed here.
For details on the approved plans at each level, please see the information below.
Middle School Return to In-Person
At the middle school level, there will be no school March 29-April 2, as staff participate in professional development to prepare for the transition to Hybrid In-Person Instruction.  Sherwood Middle School will transition to Hybrid In-Person Instruction, starting with individual grade level orientations, beginning April 5. Each grade level will have an opportunity to attend an orientation day as their first day of school, separated by cohorts.  The schedule of orientations will be:

In addition, conferences originally scheduled for April 15 and 16 at the middle school level will be cancelled, with outreach to families occurring instead during the transition weeks leading up to the start of school.
Please watch for additional details from Sherwood Middle School regarding cohort assignments and orientation plans.
High School Return to In-Person
At the high school level, individual orientations for each grade level will be held in conjunction with Quarter 3 finals week, according to the following schedule:

Following these orientations for all grades, there will be a Grading Day (no school) on Monday, April 19. Cohort rotations for Hybrid In-Person Instruction on a full-day schedule will begin on Tuesday, April 20. The opening week schedule will be as follows:

Starting Monday, April 26, the high school will begin its regular weekly cohort rotation schedule (see below). Cohort 1 will attend in-person Mondays and Thursdays, and virtually on Tuesdays, Wednesdays, and Fridays.  Cohort 2 will attend in-person Tuesdays and Fridays, and virtually Mondays, Wednesdays, and Thursdays.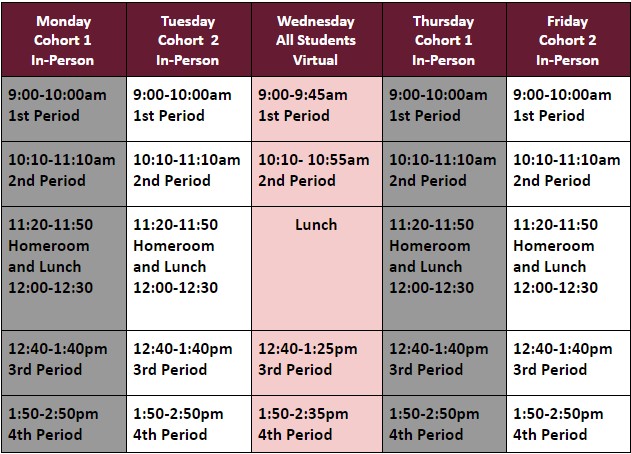 Please watch for more information from Sherwood High School, including an upcoming survey to identify your student's selection between the Hybrid In-Person or Cloud Campus (fully online) models of instruction for the remainder of the 2021-21 school year. 
Transportation Registration – Now Open!
As we continue to plan for reopening, it is essential that our Transportation Department begins to collect information about how students and families will utilize our buses. To begin gathering that information, all families whose students will ride the bus (once their grade level reopens in a Hybrid model) need to complete a Transportation Registration form, found here. For more information about safety protocols implemented by our Transportation Department please click here for English, or here for Spanish.
Reopening Communications
Need assistance with your device? Visit the District Technology Hub
Free Meals for all SSD Students
Sherwood School District remains committed to providing meal service for our students, even as we prepare to begin the new school year in distance learning. Our new meal distribution plan will begin on Monday, September 14, and has been expanded from our offerings last Spring.
Nutrition Services and Transportation are working together to deliver meals to all rural routes and bus stops. We will also resume meal distribution hubs at all school sites for families who reside in the walk zones. All student meals are free through the end of the 2020-2021 school year. With our meal delivery plan, some food will require reheating in a microwave – basic instructions for all food will be provided.
In order for your student(s) to receive meals, you will need to register using our Nutrition Services Free Meal Order Form, found here.
Once we begin in a hybrid model, student meals will be transferred to delivery in the classroom for those students; students still in distance learning or the Sherwood Cloud Campus will continue to have access to meals via bus delivery or meal hubs.
For assistance, please call Kelly Rood at 503-825-5043, or email at krood@sherwood.k12.or.us
2020-21 Operational Blueprints
August 11, 2020 – Virtual Community Forum
Fall 2020 Instructional Models: Feedback Surveys