*Updated September 4, 2020*
Sherwood Cloud Campus/Online Learning
What is the difference between Sherwood Cloud Campus and the CDL/Hybrid Model?
The instruction and curriculum for both the Sherwood Cloud Campus (SCC) and the Comprehensive Distance Learning (CDL)/Hybrid (In-Person) Model will be the same. The only difference is that students registering for the SCC will opt to stay in online instruction throughout one or more grading periods, even when the state metrics allow our district to transition students in the CDL/Hybrid Model back to the building for in-person instruction.
Comparison of Instructional Models:
If my child enrolls in the SCC, will they have a teacher from their home school?
The current plan at the elementary level is for the SCC classes to include students at each grade level from all four elementary schools (pending registration numbers). There will be one teacher per class, and that teacher may or may not be from your child's home school.
As there is only one middle school and one high school, all SCC courses at the secondary level will be taught by staff from the student's home school.
Can my child transition to the CDL/Hybrid Model from the SCC if our family needs to make a change, and what will this look like for my student?
Pending physical capacity at the school building — based on state guidelines to allow for 35 square feet per person in each learning space and six (6) feet of space between students to allow for social distancing — yes! However, we will ask that parents wait to transition students until the end of grading periods.
At the elementary level, if students change to the CDL/Hybrid Model they will be placed in a new class within their home school, as their current SCC teacher and peers will be remaining online. At the secondary level, students in the SCC will generally be in classes with students enrolled in the CDL/Hybrid Model; in most cases, they will not change teachers or classes. However, depending on how many students move between the SCC and the CDL/Hybrid Model, it is possible that some students will need to change classes to allow for sufficient physical capacity to allow 35 square feet per student in the classroom. This is an important update to an earlier version of the guidance, clarifying that if a secondary student switches to the Hybrid Model, we may have to adjust their schedule to keep class sizes within the allowances established by the Oregon Department of Education and the Oregon Health Authority. We will work to keep student schedules as similar as possible in the event that a change occurs.
Can my child transition to the SCC from the CDL/Hybrid Model if our family needs to make a change, and what will this look like for my student?
Yes! If a family decides that they are no longer comfortable with the idea of returning to in-person school (once metrics are attained) and would like to commit to online instruction through the SCC for the remainder of the year, they are more than welcome to transition to that model. We will again ask that families wait until the end of the grading period to make a change.
At the elementary level, students will join a new teacher and peer cohort of students who are only receiving online instruction. Secondary students will remain in the same classes but will participate in the course remotely.
Why is there such a quick deadline for the SCC registration?
In order to adequately plan for how many students we will be able to safely have on campus in a Hybrid Model when the metrics allow, we first need an accurate count of the number of students who are planning to return to school in person (once it is safe to do so). We know that many parents are not planning to have their students return to in-person school at all this year, and once we have collected accurate numbers for those planning to participate in the SCC, we can adequately plan classroom spaces and finalize plans for the days of instruction we will be able to offer in our Hybrid Model.
Why aren't the Sherwood Schools using a pre-purchased curriculum for online instruction?
We truly believe that the curriculum we have previously adopted, which involved the input of teachers, administrators, our community, and the Board of Directors, will be much better suited for our students, and will better support their transition back to in-person instruction when that option is available. Our teachers are experts in our curriculum, and we are providing them with all of the updated online resources to transfer our current instructional programs to the online setting. Additionally, pre-purchased curricula often use an algorithm (a method by which a computer program, as opposed to a teacher, makes decisions about what students learn next) that can create great disparities between students and their instruction. Under the Oregon Department of Education's (ODE) guidance, teachers are still required to provide live teacher-led instruction, no matter the curriculum used, and we know that our outstanding teachers are better equipped to support these live online hours with our current curriculum, versus trying to support live online instruction with a pre-purchased curriculum they have never used.
In addition, pre-purchased curriculum does not necessarily align well with the lessons and instructional methods used by our teachers. Our experience has been that students who take courses through virtual options that differ from Sherwood's adopted curriculum and instruction struggle to reintegrate back into our classrooms once they return. We are considering the long-term impacts and seeking a smooth transition for all students back into our classrooms when the pandemic comes to a conclusion.
Will there be live (synchronous) instruction in the SCC?
Yes. In both the CDL and SCC there will be live (synchronous) instruction every day, led by Sherwood School District teachers and including interactions with fellow students.
What learning platforms will teachers and students use, and why were those chosen over other options?
The ODE guidance requires that schools select a Learning Management System (LMS) to provide online instruction to students. At the secondary level, we have been using Canvas for several years. Teachers, students, and parents are familiar with Canvas. Canvas is a quality product used by many other school districts and post-secondary institutions. Although we need to be more consistent in how we use Canvas and provide training to make it easier for students and their families to use, the best choice is to stay with a robust tool that we are already familiar with and know what needs to be done to improve our implementation.
At the elementary level, there are two viable LMS options available — Canvas and SeeSaw. After a careful assessment of both systems it has been decided that SeeSaw is better designed to meet the needs of our elementary students. That being said, we also realize that SeeSaw was hard for some families to navigate in the spring, and we are working to streamline the ways in which teachers post assignments and activities to create consistency and improved ease of use for the coming school year. In the spring, we also lacked the time to properly train teachers, parents, and students on how to use the SeeSaw platform, and we will be working hard to provide these needed trainings to all stakeholder groups in the weeks to come.
What might my student's schedule look like during online learning?
For examples of what student schedules could look like at each level, please see samples below.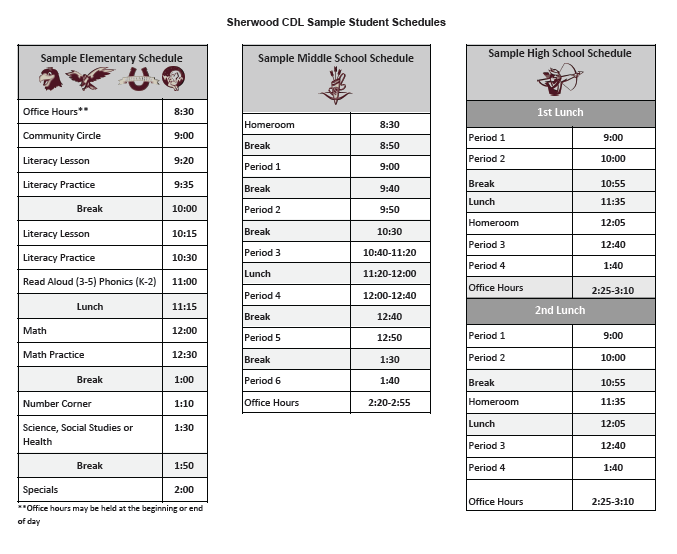 How will the District address teacher absences for CDL/Sherwood Cloud Campus learning?
Over the summer, the schools in the District identified forty substitute teachers who regularly teach in our schools — twenty at the elementary level and ten at both the high school and the middle school. Thirty so far have participated in training during the weeks leading up to the start of school to prepare them to the fullest extent possible to be ready to fill in when teachers become ill.
In addition to hiring a substitute, teachers also have the option of providing asynchronous instruction (not live, but recorded lessons, etc.) for short-term absences if they believe that better serves their students.
Hybrid/In-Person Instruction
Which grades will return to Hybrid (in-person) instruction first?
The metrics set forth by the governor that dictate when schools may open for in-person instruction set different bars for students in grades K-3 than students in grades 4-12. For students in grades K-3 to be able to attend in person, case rates in Washington County must be below 30 per 100,000 people and the test positivity rate must be below 5% for both the county and the state. For all students to return, case rates in Washington County must be below 10 per 100,000. All of those metrics must be met for three consecutive weeks. In addition to meeting the metrics for the state and Washington County, there is also language in the guidance that says districts should consider the case rates in other counties if more than 10% of staff live in one of those counties. We are currently analyzing what that means for Sherwood.
It is our sincere hope that, once the metrics are met for the safe return of K-3 students to attend hybrid (in-person) classes, we will be able to bring all K-3 students back to school. Our youngest learners seem to contract and transmit the virus at lower rates than older children. Additionally, our youngest learners rely on in-person instruction to build critical numeracy and literacy skills, as well as other skills important to their development.
When metrics allow students to return to buildings, which grades will attend school five days each week?
Our greatest hope is that we are able to bring back students in grades K-3 for five days a week. This will be dependent on our registration numbers for the Sherwood Cloud Campus and other factors, but we are very close when it comes to having sufficient physical capacity and staffing to maintain social distancing for students in grades K-3 (as per state guidelines) if students attend school every day. It is possible that we will not be able to make this work. If we are not able to accommodate grades K-3 for daily instruction, our next priority would be grades K-2, then K-1. In other words, we plan to prioritize our youngest learners for daily instruction.
Students in grades 4-12 will attend on a hybrid model, with a staggered schedule.
Calendar/Schedules
Will there be adjustments to the 2020-2021 Sherwood District Calendar?
The School Board of Directors approved a revised 2020-2021 District Calendar during the August 12, 2020 Board meeting. The calendar will be posted on the District Website the week of August 17-21.
Will teacher-facilitated instructional time be mandatory?
Teacher-facilitated instructional time is one of the most valuable parts of the online learning day, and we encourage students to participate as they would in an in-person classroom. Furthermore, engagement in teacher-facilitated instruction is a way for our staff to ensure equitable access to learning and understand a student's well-being during the pandemic. The guidance provided by ODE allows several ways that students can be counted as present in a given class. Some examples from ODE include participating in a video class, posting completed coursework, or turning in an assigned task. We also understand that CDL happens at home and that comes with unexpected challenges. To support families who need flexibility teachers will post teacher-facilitated lessons to Canvas or Seesaw, so students can view them when it works for them and their families.
When metrics allow for transition to the Hybrid Model (in-person) instruction, will students be required to attend every day they are scheduled to at school, in person?
No. While we encourage students to attend school in person when they are healthy, students displaying any symptoms of COVID-19 are required to stay home and engage remotely. This is true even if the students feel well enough to attend school to avoid the possibility of getting others sick.
Technology
What Instructional Technology (IT) support will be available for students and parents?
Families can contact teachers for support using classroom programs. For Synergy account support, parents should contact the front office of their school. For general technical support and SSD device troubleshooting, the District IT Helpdesk will be open to the public via telephone and email from 8:00 am to 4:00pm (M-F).
IT Helpdesk Phone: 503-825-5050
IT Helpdesk Email: helpdesk@sherwood.k12.or.us
Will there be a plan for those families that are not able to access live instructions due to lack of internet? The hotspots do not work where we live.
All families will be contacted by schools to go over individual technology needs in early September as part of the back to school process. This check-in will go over the family's needs tied to student devices, the ability to navigate programs, and family internet access. SSD will continue to provide WiFi hotspots to families in need. By the time school starts, the new SHS parking lot will be equipped with WiFi for members of the public to access. We are working on additional solutions to meet the needs of families without internet or cell service and will reach out individually to families in this situation once we have more information about what we can offer.
Special Education/Special Programs
What is the plan to serve children on IEPs or 504s?
See the Special Programs Service Plan by clicking here.
What is the difference in special education services between the Hybrid Model and the Sherwood Cloud Campus (SCC) for my child?
Students will receive IEP services in both the Comprehensive Distance Learning (CDL)/Hybrid Model and the SCC models. CDL is the core instructional model for all special education services at this time. This will continue until Oregon metrics are met and students in the CDL/Hybrid Model begin attending in-person. The services to be delivered are individualized and based on each student's IEP. IEP teams may need to meet if there are changes needed due to the online instruction model.
Will my student have the same case manager?
All students will be assigned a case manager in the same manner as a typical school year. For many students, this means they will have the same case manager. For some students, changes may need to be made as they would in a typical school year.
When can I talk to my student's case manager?
All licensed employees, including learning specialists and speech-language pathologists, are scheduled to return to work the week of August 31st. As you can imagine, this will be a very busy week as teachers prepare for school to begin. Case managers will be available to respond to parent questions during this week and appreciate your patience as they navigate this busy time.
How will services be provided to students who are placed in the LIFT or Skills Center programs?
Due to the highly individualized nature of IEP services and supports for students in LIFT and Skills Center programs, case managers will be in contact upon their return from summer break to discuss how services will be implemented. Students in the LIFT or Skills Center programs will continue to have access to the services on their IEPs. CDL is the core instructional model for all special education services at this time. Based on progress monitoring data, the IEP team may need to meet after a period of time in the CDL model to discuss adaptations, modifications, and additional options for learning.
How will services be provided to students in the Independence Academy program?
Students in the Independence Academy program will continue to have access to the services on their IEP. Due to current Oregon guidelines, all instruction will take place under the CDL Model. Upon moving to the Hybrid Model , if students choose this option, students may return to in-person learning in a manner consistent with the return of students in grades 4-12. Field trips and visits to job sites are suspended until further notice to maintain the safety of staff and students.
Can my child receive special education services in person?
The District is in the early stages of developing a plan for the possibility of conducting limited in-person instruction. As we develop this plan, we will keep the community updated. Limited in-person instruction can be considered for some student groups, but cannot be based on disability, race, gender, sexual orientation, etc..
The ODE guidance requires that we first consider how to provide educational services to all students in CDL and that in-person instruction cannot replace this requirement. At the beginning of the school year, all students will receive special education and related services in the CDL model. Based on data, the IEP team may need to meet after a period of time in the CDL model to discuss adaptations, modifications, and additional options for learning.
How will assessments/evaluations be conducted this fall?
We will continue to identify and evaluate students in the SCC and CDL/Hybrid models. Many of our evaluations can take place via online platforms such as rating scales, some observations, and parent/student interviews. ODE guidance gives us the ability to do 1:1 evaluations for special education as long as there have been no cases of COVID-19 among students and staff for 14 days. We are in the process of developing protocols to safely hold in-person evaluations as needed. Pending evaluations due to the spring closure will be prioritized.
How will behavior support plans be addressed?
Case managers and/or instructional assistants will contact parents to work through and consult on Behavior Support Plans. If more assistance is needed, the Behavior Support Team will be available to consult.
Miscellaneous
Can you speak to when and how the TAG identification process usually takes place as well as how that will be different this year?
The process for identifying TAG students will be largely unchanged this year, except that there are no state assessment scores available to flag students who may need to be tested. The District will continue to take parent requests for evaluation, just as we always have, and this year we will rely more heavily on teacher recommendations. The District TAG Coordinator will push out information to teachers once they begin working with students to provide "look fors" and to refresh them with typical characteristics of gifted learners.
The District will still conduct a universal screener (CogAT) with all 2nd graders and go through the regular process of evaluating potential TAG students based on those results.
How will you address TAG students with the SCC, Hybrid and CDL Models?
We are an inclusive district, meaning that the learning needs of our students are met within the classroom rather than through a separate pull-out type of program. What this means is that teachers will modify the curriculum, as needed, to accommodate the rate and level of learning based on the student's demonstration of mastery of the grade-level standards and in-class performance.
Generally, an official identification does not significantly change what is already happening in class because each student's academic goals and learning needs should have been met all along. Identification should not mean additional work, but at times it will likely mean that work for a gifted or high achieving student would be different.
Will the materials from the Virtual Community Forum presentations be made available in Spanish? The presentation slides from all sessions of the August 11, 2020 Virtual Community Forum can be found in both English and Spanish on our Reopening 2020 website here.
The band and choir programs have been strong in the Sherwood School District. How will we do bands and choir this year?
In order to best accommodate our band and choir students via distance learning, the Sherwood School District has adopted the Smartmusic platform for curricular use.
Smartmusic software provides students access to digital sheet music including but not limited to: warmups, scales, technique builders, etudes, sight reading, solos, small ensembles, and a diverse and robust set of concert performance music. The music curriculum also has the flexibility to delve into jazz improvisation, ear training, and music theory.
Any computer with internet access and a simple microphone (internal or external) will allow students to access this platform. Smartmusic provides musical feedback that is both continuous and immediate as students interact with the software.
At the point we shift back to in-person learning, students will be able to apply the musical exercises, techniques and concert ensemble music practiced to their in-person full ensemble rehearsals during class.