Emergency Communications
In the event of emergencies, inclement weather, or urgent alerts (such as bus route delays) the Sherwood School District will utilize one or more of the following communication methods to provide information and updates to families and staff:
School Messenger – This is an automated system that will sends district or school level alerts, newsletters, or announcements to the parent/guardian information on file with the school. School Messenger information is shared via email or text message, depending on the urgency of the information. If your email address or phone number have changed, please update your contact information with your child's school office as soon as possible. If you have unsubscribed from these email messages in the past but would like to be re-enrolled, please contact candregg@sherwood.k12.or.us for assistance.
District Website – All high-priority alerts will be posted to the main SSD website (look for a red or green alert bar at the top of the page).
FlashAlert – All emergency alerts and inclement weather closures/delays will be broadcast via FlashAlert. This is a free subscription service that alerts users via text or app notifications. Sign up at www.flashalert.net/signup or by downloading the FlashAlert app on your smartphone. If you have signed up for FlashAlert previously, please sign in to make sure your subscription is current. If you are not subscribed to our channel, you can search for "Sherwood Sch. Dist." to sign up for our district's alerts.
Standard Response Protocol (SRP)
Sherwood School District, in partnership with the Sherwood Police Department and other local law enforcement agencies, utilizes the Standard Response Protocol (SRP) for its emergency response procedure. The SRP provides school districts and law enforcement with a common language to define which responses will be used by a school or the District in the event of an emergency or safety issue. Additionally, the SRP terms and visual cues can be quickly understood and recognized by students, staff, and parents.
The SRP includes five different actions: Hold, Secure, Lockdown, Evacuate, and Shelter. For those familiar with the previous version of the SRP, you will notice that Lockout is no longer one of the actions listed, having been replaced by Hold and Secure. The actions work as follows:
Hold

– Students remain in classrooms with room doors locked, while learning continues as per normal (no students/staff in hallways or common areas)

Secure

– Students are brought into the school building and outside building doors are locked, while learning continues as normal (students/staff may use hallways or other areas)

Lockdown

– Full lockdown of building: Lights off, all doors locked, maintain silence, stay out of sight

Evacuate

– All students/staff leave the building, moving to an identified safe location

Shelter

– Use of appropriate response to an outside safety threat, such as tornado, earthquake, flood, etc.
Information about the SRP responses is reviewed with students and staff at the beginning of each school year, and regular drills are conducted on these actions at all SSD schools throughout the year. All drills are designed to be age-appropriate by building, while also providing students and staff with a chance to see what a response will look and feel like, including alarms or announcements. Drills are an essential part of helping our students and staff know what to do in an emergency, as well as providing buildings with the opportunity to assess their readiness for potential emergency situations.
For more details on the Standard Response Protocol, please click the image below.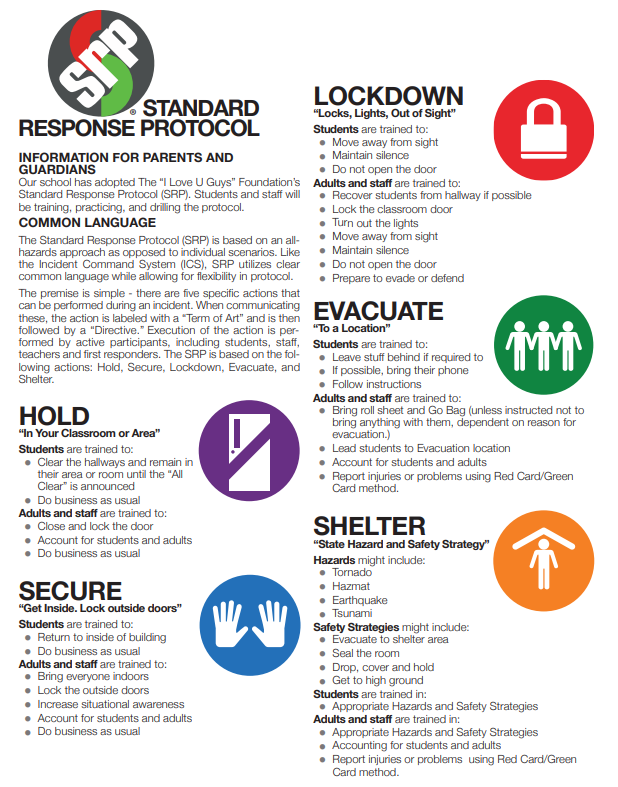 For information in Spanish, please click here.
Parent/Guardian-Student Reunification
In the event that we need to evacuate a campus and reunite students with their parents at an alternate site, we will follow a specific parent/guardian-student reunification procedure. Parents/guardians will be notified of the reunification location and instructions for picking up their child using School Messenger, Flash Alert, and/or one of the additional emergency communication methods listed above.
When a parent/guardian arrives at the reunification site, they will need to present photo identification in order to pick up their child. Parents, guardians, and those listed as emergency contacts in our student information system are the only adults who will be allowed to pick-up a student. Our staff will remain with and care for all students until an authorized adult arrives to collect them.