2022-2023 Applications remain open, Lottery May 2.
Dual Language Immersion Program
Dual Language Immersion (DLI) at Hawks View Elementary
The Sherwood School District is excited to continue our Spanish/English Dual Language Immersion Program in the Fall of 2022. We will be in our third year of the program having a class in 1st grade, 2nd grade, and an incoming Kindergarten class for the Fall of 2022 . A Dual Language Immersion Program has the goal of promoting bilingualism, bi-literacy, and socio-cultural competence.
Applications are now open for a new DLI Kindergarten class, with a balance of Native English and Spanish speakers. There may be few slots open in our first grade class as well. If you applied last year, you will remain on the waiting list and do not need to re-apply.
Steps to apply for the Dual Language Immersion Program (grades K & 1)
Enroll the student in the Sherwood School District-see our Enrollment Process Page.
Fill out the DLI Application
If accepted, sign and return the participation agreement.
We are still accepting applications, but for the waitlist and for bilingual/Spanish speaking students. For applications received on or before 4/25 we will have a lottery on May 2 and applicants will be notified the that week.
Any applications received after April 25, 2022 will be placed on a wait list according to date received or will be first come first serve if there are spots available.
For more information, click image below to see flyer.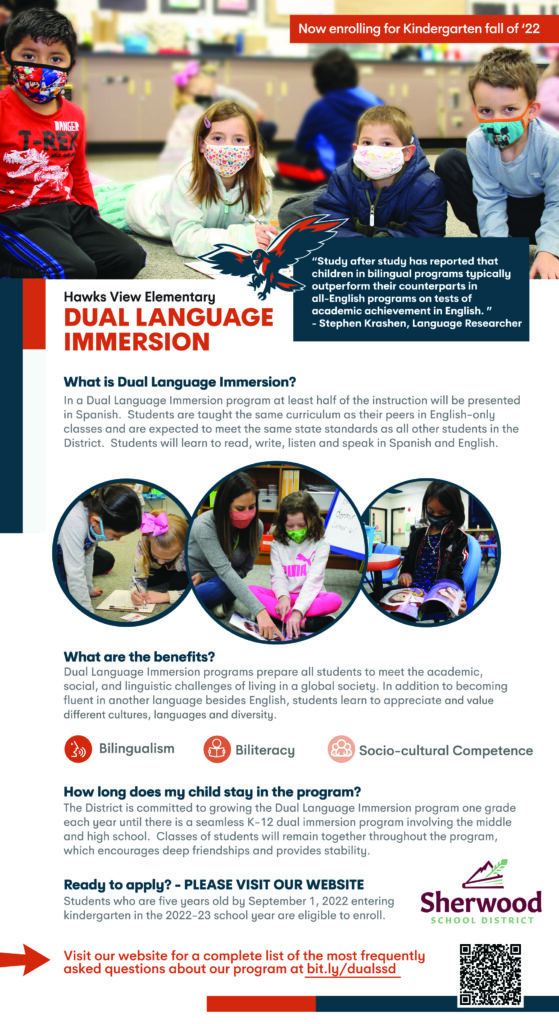 ---
Programa de Inmersión de Lenguaje Dual
Lenguaje de Inmersión Dual (DLI) en la Escuela Primaria Hawks View
El Distrito Escolar de Sherwood se complace de continuar nuestro Programa de Inmersión de Lenguaje Dual en el otoño del 2022. Estaremos en nuestro tercer año del programa teniendo una clase en 1er grado, 2do grado y una clase entrante de Kindergarten para el otoño del 2022. Un Programa de Inmersión de Lenguaje Dual tiene la meta de promover el bilingüismo, literatura en dos idiomas, y competencia socio cultural.
Las inscripciones aún no están abiertas pero cuando se abran estaremos aceptando solicitudes para la nueva clase de DLI en Kindergarten, con un balance entre nativos del idioma inglés y español. Posiblemente habrá algunos espacios en nuestra clase de 1er grado. Si usted llenó una solicitud el año pasado, usted continuará en la lista de espera y no tiene que llenar otra solicitud.
Paso para solicitar el Programa de Inmersión de Lenguaje Dual (grados K & 1)
Las inscripciones se cerrarán el 25 de abril del 2022. Si todos los espacios se llenan y se necesite un sorteo, esto se llevara acabo la semana del 2 de mayo (mas detalles mas adelante) y los solicitantes serán notificados la semana del 2 de mayo.
Cualquier solicitud recibida después del 25 de abril del 2022 será puesta en la lista de espera según la fecha recibida o se aceptarán según los espacios disponibles.
---
Contacts
Jennifer Larson-Dual Language Immersion Coordinator jlarson@sherwood.k12.or.us
Penny Salem-Principal of Hawks View Elementary psalm@sherwood.k12.or.us
Maria Quiñones Community Liaison/Enlace Comunitario mquinones@sherwood.k12.or.us
Kellie Johnson-Hawks View Main Office kmjohnson@sherwood.k12.or.us